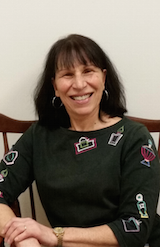 Luisa's experience as a social worker and psychotherapist spans four decades and includes many fascinating and challenging areas of practice in both the United States and Israel.  Her philosophy of intervention is 'one size does not fit all'.  Her techniques are therefore diverse and varied.  She believes in working simultaneously on two tracks.  One is insight-oriented.  The other is teaching techniques that patients can use to feel healthier and stronger immediately.  She incorporates EFT/Tapping, guided imagery, meditation and spirituality as appropriate.
Luisa specializes in Imago Relationship Therapy for couples and Clinical Heart- Centered Hypnotherapy for presenting issues such as trauma, addictions, depression and anxiety in addition to traditional psychotherapy with adults 18 and over.
Luisa holds a B.A. in social work from the University of Wisconsin, MSSA from MSASS (CWRU), advanced certification in Clinical Heart – Centered Hypnotherapy from The Wellness Center in Issaquah, Washington.  Additional expertise includes Reiki; Louisa is also a Reiki master.
TRAUMA | DEPRESSION | LOSS |  ANXIETY  |  REALTIONSHIP ISSUES | MOOD DISORDERS | TAPPING | PSYCHOTHERAPY | MARITAL ISSUES (IMAGO THERAPY)