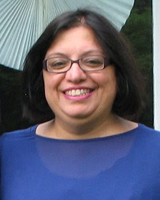 Dr. Sunita Kumar is certified by the American Board of Psychiatry and Neurology and specializes in Geriatric Psychiatry. She completed her Residency Training in Psychiatry at MetroHealth Medical Center in 2000 and Fellowship in Geriatric Psychiatry at University Hospitals of Cleveland in 2001. She has also completed a two-year postgraduate study in Psychodynamic Psychotherapy at the Cleveland Psychoanalytic Society. She earned her Medical Degree from Patna Medical College, India. She served as attending on the Geriatric inpatient unit at University Hospitals of Cleveland and has been in private practice since 2009.
Dr. Kumar's specialty interests include the diagnosis and treatment of behavioral/emotional symptoms related to dementia, depression, anxiety, psychosis, insomnia, loss, grief and other mental health issues of the geriatric patient. Her overall approach is comprehensive with an aim to better understand her patients in the context of their unique personal, social and sub-cultural experiences, beliefs and settings.
Dr. Sunita Kumar is also a certified Satyananda Yoga Nidra Teacher. She has had a personal practice for the past several years and is available for both private and group lessons. The practice of Yoga Nidra is intended to complement your care with your Physician and/or your therapist and can be modified to your specific needs.