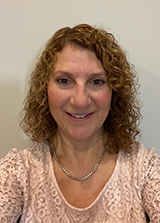 Dr. Elisabeth "Beth" Goodman [nee' Fishbach] earned her Bachelor's of Science Degree in Psychology at the University of Wisconsin-Madison. She then completed a Master's of Education [M.Ed; 1991] and Doctorate [Ph.D.; 1996] in School Psychology from the University of Cincinnati. Dr. Goodman's Doctoral program focused on counseling and Applied Behavior Analysis techniques.
Previous employment duties at the Hamilton County Educational Service Center [1991-1995] included behavioral consultant for children with Multiple Handicaps and assessment and counseling for students in the Hearing Impaired program. From 1995-1998, Dr. Goodman was a school psychologist in a full inclusion elementary school in the Syracuse City School District, where she completed assessments for school-age and preschool students and provided behavioral support and social skills development.
From 2002-2009, Dr. Goodman served as the Executive Director at the Galvin Education and Resource Center for Families [GERCF], a nonprofit dedicated to providing information and educational resources to benefit children with special needs.
From 2003 – present, Dr. Goodman has worked as a private contractor providing psychological assessments with Dr. Carl U. Weitman, Ph.D., Clinical Neuropsychologist.
From 2008 – present, Dr. Goodman has worked as a private contractor providing psychological assessments with Michelle Martin, Ed.S., at the Insight Learning and Wellness Center.
From 2009 – present, Dr. Goodman has primarily worked at the Summit Educational Service Center, in conducting screening and assessments for children transitioning from Part C Early Intervention to preschool services and referred children ages 3-6. Additional duties include psychoeducational assessment for the TALK program, a specialty Listening in Spoken Language Auditory Verbal Specialty program for preschoolers with hearing loss, and ADOS-2 autism assessments. Dr. Goodman is a Supervisor for Kent State University School Psychology Graduate Students and Interns.
Dr. Goodman specializes in psychological assessments and interventions with preschool – school age students, as well as psychological assessments for adults. Additional specialties include assessment of people who may be on the autism spectrum as well as people with hearing impairments.