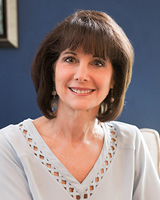 Laurie Linden is a clinical social worker and board certified art therapist. She earned her master's degree in social work from the Mandel School of Applied Social Sciences at Case Western Reserve University. Laurie has many years of experience providing psychotherapy and cognitive behavioral therapy in inpatient and outpatient mental health centers and partial hospitalization programs. She entered private practice in 2008 at Psychological and Behavioral Consultants and joined Behavioral Health and Wellness in 2014. In addition, she also designs and implements art therapy groups for The Gathering Place, a wellness center for people whose lives have been touched by cancer.
Laurie's particular treatment focus is with individuals 16 years and older experiencing pain and discomfort associated with depression, anxiety, stress, trauma, relationship problems, women's issues, life transition difficulties, pain/ chronic illness, loss and bereavement. Her special interest and expertise includes utilizing art therapy with individuals and groups of all ages to express feelings, increase self-awareness and self-esteem, and to enhance the coping/healing process.
ART PSYCHOTHERAPY  |  ANXIETY AND DEPRESSION  |  LIFE TRANSITION ISSUES
Telehealth link for scheduled appointments only:  http://doxy.me/laurielinden
The telehealth link is not a monitored line, and should not be used as an emergency form of contact with a provider.