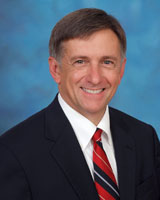 Dr. Swales specializes in independent psychological, neuropsychological and forensic evaluations. Dr.
Swales is the forensic neuropsychologist for the Court Psychiatric Clinic of the Cuyahoga County Court of Common Pleas. He serves as an expert witness for the Ohio Attorney General, Ohio Public Defender, and Ohio Police & Fire Pension Fund. Dr. Swales is board-certified in clinical neuropsychology by the American Board of Professional Psychology, and a fellow of the National Academy of Neuropsychology.
Dr. Swales completed his B.A. and M.A. in Psychology at Case Western Reserve University; Ph.D. in clinical psychology at the University of Miami; internship in clinical psychology at the University of Oklahoma Health Sciences Center; and fellowship in clinical neuropsychology at the UCLA Neuropsychiatric Institute. He was an Assistant Professor of Psychiatry and Senior Researcher in the Center for Health Care Research and Policy at Case Western Reserve University. He was Director of the Psychological Assessment Center at MetroHealth, and Chairman of the Institutional Review Board. Dr. Swales was also a consultant to the Cuyahoga County Sheriff's Department for over 25 years. He also served as a technical advisor on behavioral health quality measures to the U.S. Department of Health and Human Services.
Dr. Swales is Past-President of the Ohio Psychological Association, and currently the President of the Foundation for Psychology in Ohio, and a member of the medical advisory board of NAMI Greater Cleveland. He was the recipient of the Kirk R. Danhour Memorial Award from the University of Miami, and the Young Investigator Award from the International Congress on Schizophrenia Research. Dr. Swales is a consultant to the NFL Concussion Settlement.
PSYCHOLOGICAL EVALUATION  |  NEUROPSYCHOLOGICAL EVALUATION | EXPERT WITNESS